This is Negar.
She is a class-act and truly does-it-all! Her journey at Buyatab started a year ago as she joined our Product Team. Now a team of 4, Negar's role as a Product Owner has impacted Buyatab's development and growth significantly – not only in her day-to-day, but also as part of the Social Committee Team. Her creative spirit and enthusiastic personality make her the ideal member, hosting mid-day Slack breaks, happy hour events and even earning the title of: The Ultimate Bingo Master.
As an avid music listener, Negar can "name that tune" faster than anyone else (as long as it is in the top 40) and will happily recommend your any podcasts, playlists, and songs. Sometimes her dog, Kooper sings along too!
Q: What does a typical day at Buyatab look like for you?
A typical day for me at Buyatab involves a lot of meetings! As a Product Owner, I act as a bridge between different integral parts of a company. I relay information between each party involved and resolve their issues by creating more efficient solutions. For example, if our Finance team has challenges with their processes, they will communicate to me their problems. After that, I will meet with the developers to go over the requirements and create a ticket. From there, the Product Team creates the sprint calendar composed of different tickets and timelines, depending on the bandwidth.   Of course, our priority is more than just our internal upgrades, but we also have our stakeholder's interests to keep in mind!
Q: What is the best part of your role at Buyatab?
The best part of my role is working with each team and solving their everyday challenges. I get a glimpse into everyone's work and I can see how I can help them with technology. Every day is different and can be challenging at times, but I am thankful for all the support and team effort during those times. It is extremely rewarding witnessing the final result. Keep me on my toes, for sure!
Q: It's been 6 months since WFH, how has it been?
My WFH setup looks very much like my setup at the office including the stand-up desk! Working from home started a little rough as I adjusted to literally not being able to leave the house. But now that restrictions have eased, it has been great having a balance of going out for a coffee or taking Kooper for a walk. Hunkering down after to focus is easier and breaks my day up more. But let me tell you, Zoom fatigue is a real thing!
Q: It's Fall! What is your favourite thing about this season?
Almost everything. Fall is my favourite season! (and not just because it is my birthday season.) I love the leaves changing colours and covering the ground. I love the freshness that is in the air and all the pumpkin flavoured foods. This year, someone told me that Kraft is releasing a pumpkin spice mac and cheese so I guess that will be my standard dinner for the rest of this season. Oh – and of course, I love Thanksgiving!
Q: What is your favourite Thanksgiving memory?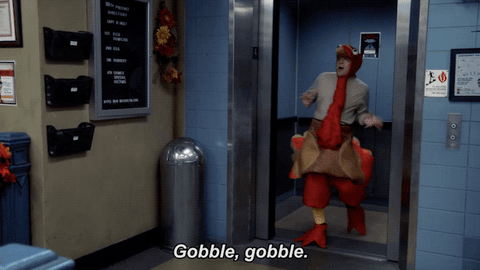 I lived in London, UK for 4.5 years and they do not celebrate Thanksgiving. And so each year, I would cook for my flatmates and I (5 of us) Thanksgiving dinner. In the morning, I would drag one of my flatmates out with me to buy everything. Because we had no shared living space and a tiny kitchen, we would push two desks together in the largest bedroom and feast! We would also go around the table and say what we are most thankful for!
Q: If you had to host a Thanksgiving dinner and could invite a whole TV/movie cast over, which cast would it be?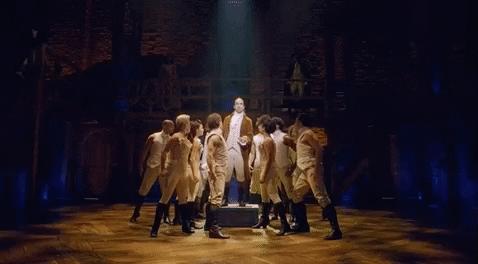 I am not sure if this counts, but I would invite the whole cast of Hamilton. Since it is on Disney+ now, I will count it as TV/movie. They are all so talented and smart. It would be very easy to have a conversation with them. Then after dinner, we would all gather around the piano and sing the soundtrack.
Q: What is the latest podcast you've listened to?
I am obsessed with 'How I Built This'. It is a podcast about "innovators, entrepreneurs, idealists and the stories about the movements they built." I listen to an episode on my morning walks with Kooper. It is very inspiring hearing founders' stories about how they started their company and all the hurdles they had to overcome. It has helped me gain a new appreciation for entrepreneurship and a lot of existing companies. Most importantly, they address their failures which I think is just as important to acknowledge.
Q: What is a secret talent or skill that no one knows about?
For some reason, people that know me well seem to be surprised when I tell them I play the piano. I am by no means a concert pianist, but I can play a few songs. I recently bought a piano for my apartment and I am currently learning some songs from the Hamilton soundtrack. (If you could not tell, I love Hamilton!)